Monday, 22 February 2021 - 21:52
ISWNews Analysis Group: Ansar Allah operation to liberate Marib province from Saudi coalition continues in western and southern fronts.
In the second week of the operation in Marib province, most of the ground conflicts concentrated in east of Sarwah, Raghwan district and east of Madghal fronts.
An important news was dispatching of vast number of ISIS and Al Qaeda terrorists and also two brigades of National Resistance (commanded by Tariq Saleh) by Saudi coalition to west of Marib city front. ISIS official media releasing a statement declaring war against Ansar Allah in Marib, parties allied with the rescue administration and Ansar Allah officials issued harsh statements against ISIS and people and tribes pro-AnsarAllah stressed on participating more actively in liberation of Marib.
East of Sarwah front
Conflicts reached Talaat al-Hamra, Zour and Hamajira at the moment and it seems Ansar Allah tactics in this axis are still on hit-and-run continuously and step by step advance toward Marib dam and southwestern heights of the city. If Ansar Allah continues toward south of the dam, it is possible to cut the southern road of Marib city and it can be helpful in cleansing Jabal Murad and al-Jubah district and operation in south of Marib province.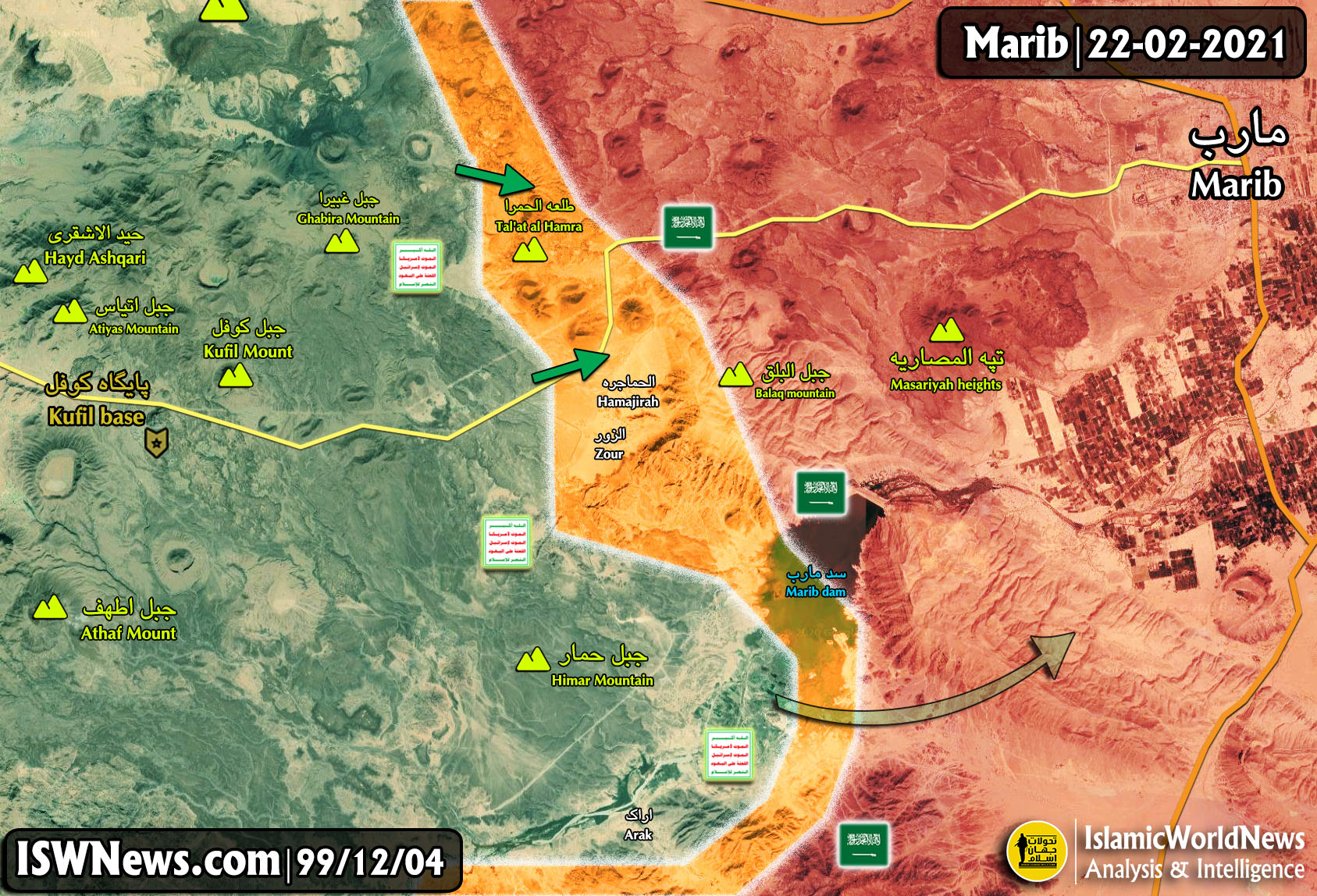 Raghwan front
On February 17, Ansar Allah launched a heavy attack to liberate Asdas town which faced Saudi coalition and Asdas tribes forces resistance. The second attack started today afternoon and if Ansar Allah puts serious pressure on north of Madghal and southeast of Al Jawf, the positions of these tribes are endangered and it is possible that they come to agreement with Ansar Allah and the liberation of Raghwan district completes.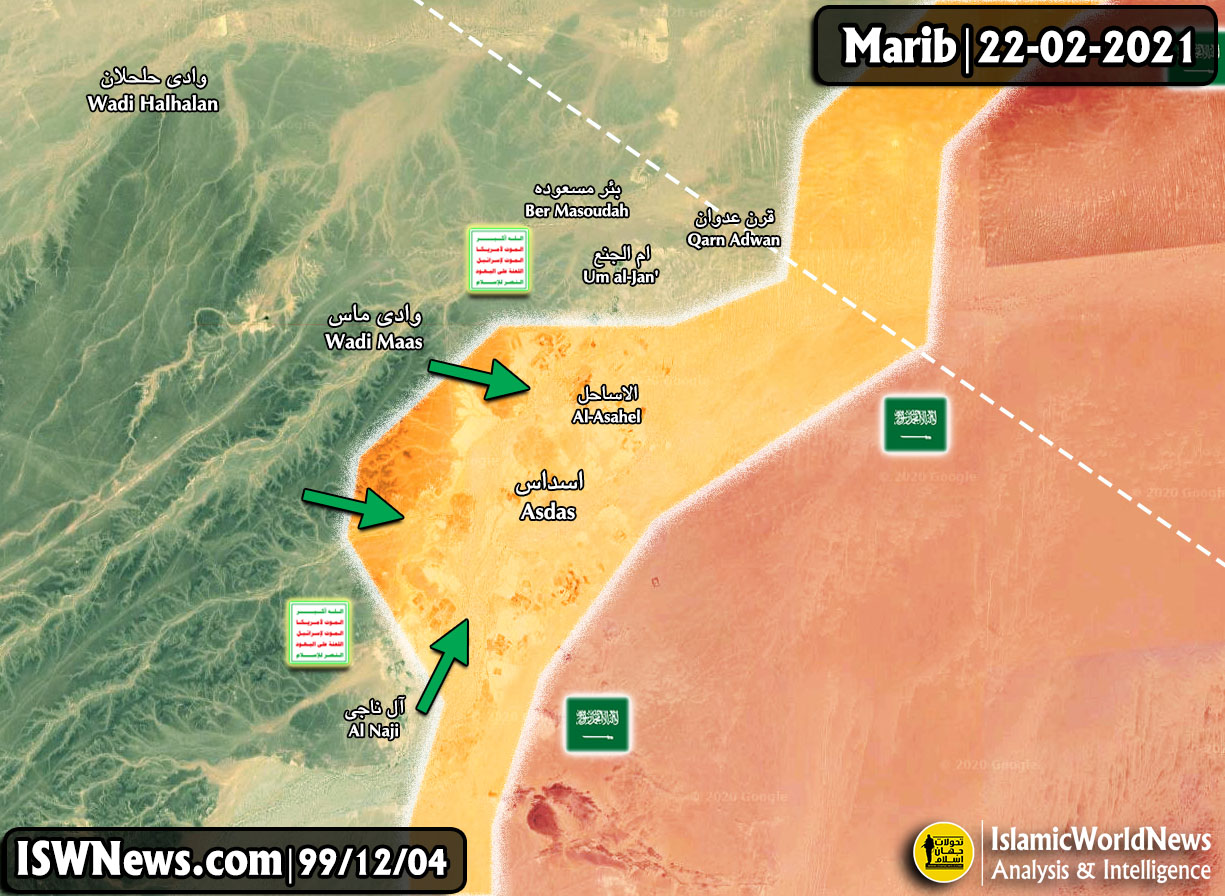 East of Madghal front
Ansar Allah's hit-and-run attacks and brave resistance in east of Madghal and other fronts resulted in heavy casualties of Saudi coalition that only Saudi coalition media confessed four high rank officers killed in the second week of the conflict.
There is heavy conflict going in Malbudah and Kasarat area in east of Madghal right now.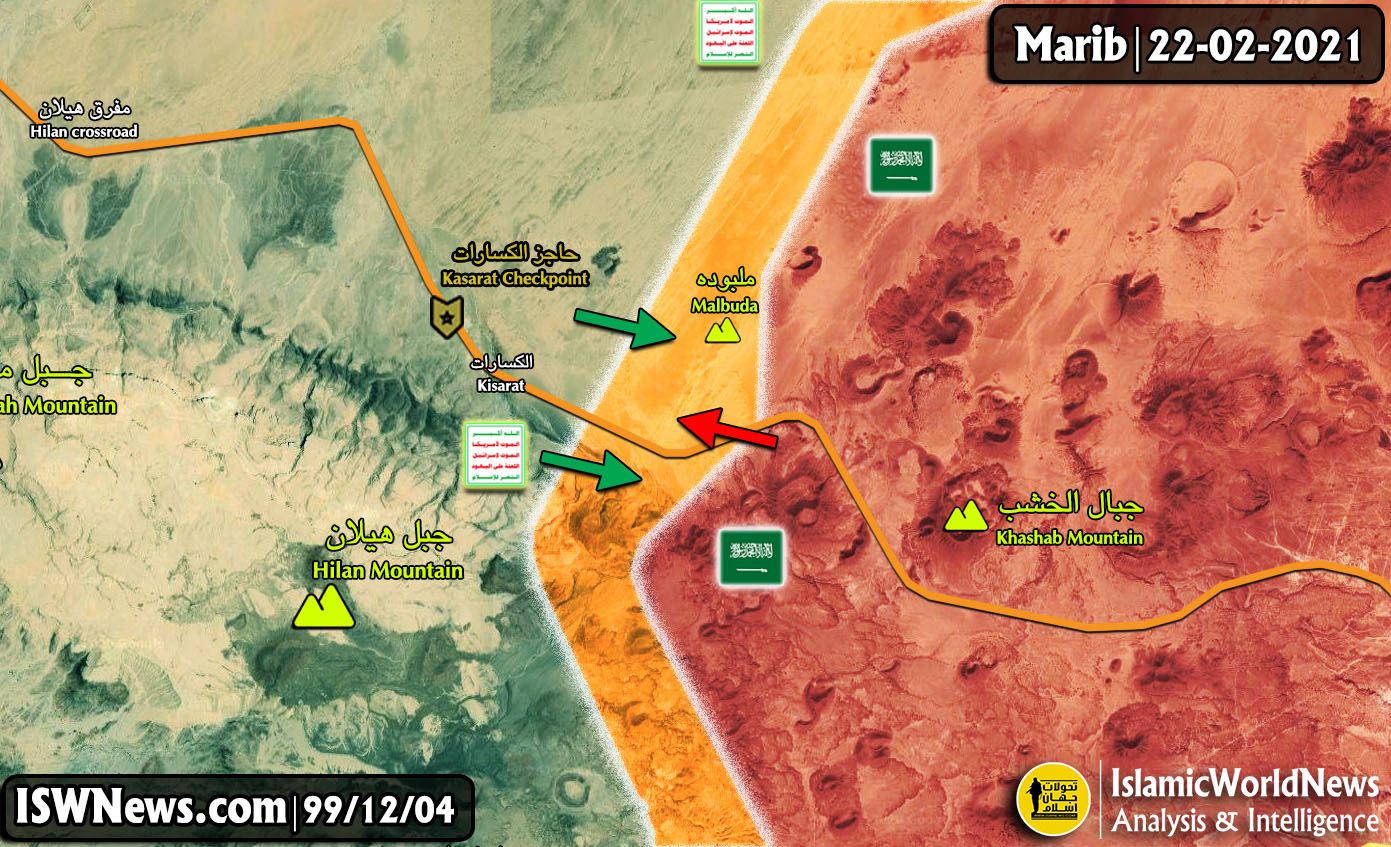 Ansar Allah launched 11 drone and missile operations against Saudi coalition in this period, as follows:
Drone attacks: Khamis Mushait 3 times, Abha Airport once, Jeddah Airport once, al-Nodhoud mountain in East Al-Jawf, Saudi Coalition positions in southern Saudi Arabia once.
Missile attacks: Positions of the Saudi coalition in Marib 2 times, positions of the Saudi coalition in the south of Marib 1 time, positions of the Saudi coalition in Saudi Arabia 1 time.
Saudi coalition warplanes have bombed Sarwah 44 times this week, Madghal 24 times, Maheliyah 4 times in Marib province and 10 times in al-Hazm and Khab al-Shaaf district in Al-Jawf province.

© 2007-2020, All Rights Reserved Syria|Turkey|Yemen|Qatar|Afghanistan|Azerbaijan|News|War